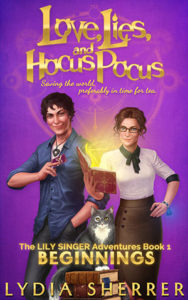 Today I'm talking to fantasy author Lydia Sherrer, who loves tea, the Kentucky countryside and playing her ocarina. Thank you, Lydia, for taking the time to chat to me. Please sit down, get comfortable and let's begin.
About Lydia Sherrer
Author of the Love, Lies, and Hocus Pocus magical adventure series, Lydia Sherrer is a fantasy author whose goal is to leave this world a better place than when she found it. With an urban fantasy series, multiple short stories and a novella under her belt, Lydia has been writing for over a decade and enjoys nothing more than a good book, a cup of tea, and a comfy chair in the sunshine. When not writing she loves to play her ocarina (think Zelda), and also enjoys traditional archery, cosplay, larping, and art.
Growing up in rural Kentucky, she was thoroughly corrupted by a deep love for its rolling countryside, despite the mosquitoes and hay fever. She was instilled with a craving for literature early on, and her parents had to wrestle books away from her at the dinner table. Though she graduated with a dual BA in Chinese and Arabic, having traveled the world she came home and decided to stay there. She currently resides in Louisville, KY with her loving and supportive husband, and their very vocal cat.
Read More