Today I'm interviewing author Rosetta Bloom, who loves a good fairy tale, some heart-warming and sometimes steamy romance, and combines these elements into stories that grown-ups can devour. Thank you, Rosetta, for taking the time to chat to me. Please sit down, get comfortable and let's begin.
About Rosetta Bloom
Rosetta Bloom loves a good love story. She also likes a steamy tale with two characters who find solace in each other's arms. So, she writes romance and erotic romances, and all of them end happily, because Rosetta hates sad endings. If you want a story that has a few surprises, and lots of heart, then she's writing the story for you.
Rosetta Bloom's primary novels and novellas are sexy retellings of classic fairy tales. They include The Princess, the Pea and the Night of Passion; Beauty and Her Beastly Love; Cinders and Ash: A Cinderella Story; Dream Trysts: A Sleeping Beauty Story; Finding Bliss: A Dream Trysts Story and Ravishing Rapunzel. Rosetta loves adding new life to these classic tales and hopes you enjoy the tweaked versions too. Rosetta also has a series of really short erotic love stories called the Romance: Trysts series. You can read the first one, Dr. Carter & Mrs. Sinn, FREE. There are four in the series, and if you like the first, you can grab the rest individually or pick up the boxed set, Romance: Trysts Volumes 1-4.
What's the name of the book you're here to talk about?
Beauty & Her Beastly Love
Tell us a bit about your book
In this grown-up Beauty and the Beast, we meet Beauty, a sheltered young girl living with her father. She doesn't get out much, but her tutor has given her books to read privately. The books all have a rose imprinted on the cover and describe the ways in which men and women love each other. The books give Beauty ideas about pleasures of the flesh.
Beauty's father, Pierre, sets off on a journey and ends up taking refuge in an enchanted dwelling. Pierre takes a rose-covered book, like the ones his daughter reads, and is caught by the beast who lives in the manor. Pierre agrees to send his daughter in exchange for the Beast not killing him.
When Beauty arrives, she feels disappointed that she will spend a lifetime imprisoned with this beast, rather than experiencing the type of relationship between a man and a woman described in her books. Only, as she gets to know Beast, she develops an attraction to him. Later, Beauty discovers that she and Beast can take pleasure in each other's company in more ways than she'd ever imagined.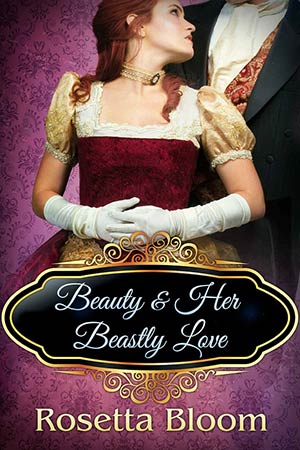 How important are character names to you in your books? Is there a special meaning to any of the names?
I think character names for the main character are very important. I think I work hard on those. Because many of my pieces are fairy tales, I try to go with names that evoke the spirit of the time. Some names are set in stone, based on the fairy tale retelling. Rapunzel has to be the name. But for other main characters, like the prince, I'll pick strong names I like. Bradyn had a strong feel to it and meant Broad. In my Cinderella retelling, I went with Ashton, because I knew I wanted the title to be Cinders & Ash. For my short story Nikki & Mike, I went with Nikki, because it embodied a certain spirit and sassiness. I always think of Nikki Giovanni when I see that name, and she's such a lively, deep and spirited person.
If you could choose ten words to describe your book, what would they be?
Happily ever after. Charming. Heart-warming. Sexy. Fun. Sweet. Simple.
Where do your ideas come from?
It depends on the ideas. I have an entire fairy tale series, which focuses on retellings of classic fairy tales. For those, I was obviously inspired by the originals and wanted to do something fun, but different. I wanted an adult version of the classic tale. I've written some contemporary short stories, and those were all inspired as ways to have a sexy encounter between two people who are connected in ways they don't quite realize yet. I think those kinds of stories where two people connect in ways they hadn't expected really intrigue me, so I like to write those.
What do you think of book trailers? Do you have a trailer or do you intend to create one for your own book?
I think book trailers are great. It's wonderful when people use other forms of media, such as video and audio to bring attention to their books. I have a couple of book trailers that I created on YouTube. I'm not sure how effective they are in bringing in readers, so I don't have them for all my books, as they do take time to create. The ones I've created, I think, may be a tad too long, so I'll take that into consideration in the future. However, I do think, when they're done well, they add a great dimension for marketing.
Here's a link to one of mine. I have a couple of others, but I have revised the covers and haven't had time to update the trailers:
Cinders & Ash: https://www.youtube.com/watch?v=ofVcKoHesNs
Have you always liked to write?
Ever since I was a child, I've loved to write, so it's been natural to me. I love being able to do it in the romance genre. Stories that connect two people who form a strong bond make me really happy.
What writing advice do you have for aspiring authors?
Write and read. Write every day, and get as many words as you can down on paper, but also read. Read stuff that makes you happy, that keeps you turning pages. Do those two things, and you'll do well as an author.
Do you read reviews of your book(s)? Do you respond to them, good or bad? How do you deal with the bad?
I do read reviews. I think every author looks at reviews at some point. I'm not JK Rowling, so I don't have books with 10,000+ reviews, so when I get new ones, I try to take a peek at what was said. I don't respond to reviews on buying sites (like Amazon or Barnes & Noble). People have an opinion and the fact that they decided to write the review says enough. Generally, if I see a blog post review, I'll thank the reviewer for taking the time to read and review the book. I'm always really happy to see a person who enjoyed the book, and obviously disappointed when someone doesn't enjoy the book. But not everyone enjoys every book.
What is your least favourite part of the writing / publishing process?
My least favorite part has to do with the publishing side. A lot of the publishing parts are just tedious. Formatting paperbacks and ebooks takes time and I'd rather just be writing or editing. Also, the marketing can feel like a time-suck from your writing, too. However, I do like engaging with fans. I have a newsletter, and sometimes people respond to articles I mention them in, and that's always fun, to have that little bit of back and forth.
How long does it usually take you to write the first draft of a book?
First draft timelines can vary widely. I've done short first drafts in as quick as two weeks. I wrote the first draft of Beauty and her Beastly Love that quickly (and it's a shorter book at 35,000 words). That story really just came to life. Other times a first draft could take a couple of months, especially if I have another project I'm working on simultaneously. Generally, if everything is working smoothly, I can have a first draft complete in a month. But rarely do things go perfectly smoothly in my life.
What are you working on now?
Right now, I've just finished a book for that was supposed to be for an anthology called the Diamond Club. Unfortunately, the anthology got canceled, and I'm going to have to revise it so I can publish it on my own. Each book in the anthology was supposed to have a diamond-related title. My book is Brilliant (as in the diamond cut, but also my main character). Once I finish revisions, I'm going to work on my next book in the fairy tale series, Red Rider. It's going to be a Little Red Riding Hood tale, and it's going to bring in some of the characters in the previous books. I like how my fairy tale universe has some overlap in it. After I finish that one, I'm going to focus a little bit on contemporary romance, with a modern love story. I don't have a title for it yet, but I'm on the hunt for a cover, and I have a very clear idea of the characters.
What's the strangest thing you have ever had to research for your book?
I just finished Brilliant, so I've been researching things related to diamonds and jewel heists and diamond processing. It's not that strange, I guess, but different. And when a topic is on my mind, I tend to be on the lookout for any stray articles about the subject. I found this very cool article on diamonds. So, it's fun when your research informs real life.
When you're writing, do you listen to music or do you need silence?
I do not listen to music when I write. I find that a horrible thing to do, as I like music, and if I were listening to it, I'd be singing along. I don't mind background noise that's not music. I tend to tune out when I write. I could be sitting in a room full of people and write and it would be fine. A television show could even be on in the background and I'd tune it out. But music does bother me immensely while I write.
Where can readers go to discover more about you and your books?
Website | Facebook | Twitter | Pinterest | Amazon Author Page | Goodreads | YouTube
---
Beauty & Her Beastly Love is out now!
Available formats: ebook and paperback