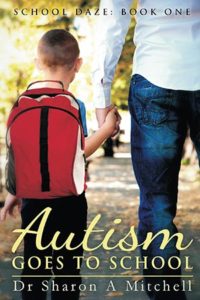 Joining me today is Dr. Sharon A. Mitchell, who seeks to entertain, as well as inform, with her stories on autism. A little research on my part and I found that a study by the Centers for Disease Control and Prevention (CDC, in the USA) identified 1 in 68 children as having autism spectrum disorder (ASD). Someone in your family may be autistic, or a family member of a friend. If not, chances are you'll meet someone with autism at some point in your life. I'm sure we'll learn even more during the interview. Thank you, Dr. Mitchell, for taking the time to chat to me. Please sit down, get comfortable and let's begin.
About Dr. Sharon A. Mitchell
Dr. Sharon A. Mitchell has worked as teacher, counselor, psychologist and consultant for several decades. Her Masters and PhD. degrees focused on autism spectrum disorders and helping kids to reach as high a level of independence as possible.
The first book in the series, "Autism Goes to School" is an award-winning Amazon bestseller. Yes, life with autism has its struggles, but there are strengths as well and the fun parts that any family experiences. The book is full of the challenges inherent in autism plus strategies that make life easier for all concerned. It's a story about a single dad doing the best he can. One in sixty-eight American children has an autism spectrum disorder and one in every forty-two boys. Every teacher will have a child with autism in their classroom. Every coach will meet a child with autism. If autism has not touched your family, it will affect your friends or neighbors.
Autism Goes to School has been followed by these books; Autism Runs Away, Autism Belongs, Autism Talks and Talks, Autism Grows Up, and, coming in 2017 is The Autism Goes to School Workbook and the Prequel to Autism Goes to School. Join the kids and staff of Madson School as they learn and grow and welcome others with special needs into their midst.
When not writing, Sharon works as an autism consultant, teaches university classes and works on their grain farm in western Canada.
Read More