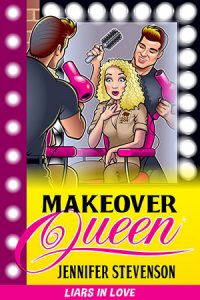 Today I have the opportunity to chat with Jennifer Stevenson, a fantasy and romance author who, to quote her Facebook page, writes, "what I would want to read over breakfast, something digestible and fun." Thank you, Jennifer, for taking the time to chat to me. Please sit down, get comfortable and let's begin.
About Jennifer Stevenson
Jennifer makes up new uses for old demons. She lives in Chicago with her stagehand husband and two bossy kittens.
Today she talks about MAKEOVER QUEEN, a contemporary romantic comedy about a makeover that goes terribly wrong—or right!
Try all her series:
Backstage Boys – Contemporary romantic comedies about stagehands in Chicago
Hinky Chicago – Following the adventures of a fraud cop who busts a fake sex therapist and accidentally releases an incubus from his "treatment bed".
Slacker Demons – Five guys live in a man-lair in a quiet Chicago neighborhood. They're all hot, all retired gods and heroes, all working as sex demons for Hell, and all this close to losing their jobs, because although they are good at meeting women, they suck at the paperwork.
Coed Demon S***s – Ordinary women with ordinary problems seek an extraordinary solution: they sign contracts with Hell to become succubi.
Read More