Today I have the opportunity to chat with Jennifer Stevenson, a fantasy and romance author who, to quote her Facebook page, writes, "what I would want to read over breakfast, something digestible and fun." Thank you, Jennifer, for taking the time to chat to me. Please sit down, get comfortable and let's begin.
About Jennifer Stevenson
Jennifer makes up new uses for old demons. She lives in Chicago with her stagehand husband and two bossy kittens.
Today she talks about MAKEOVER QUEEN, a contemporary romantic comedy about a makeover that goes terribly wrong—or right!
Try all her series:
Backstage Boys – Contemporary romantic comedies about stagehands in Chicago
Hinky Chicago – Following the adventures of a fraud cop who busts a fake sex therapist and accidentally releases an incubus from his "treatment bed".
Slacker Demons – Five guys live in a man-lair in a quiet Chicago neighborhood. They're all hot, all retired gods and heroes, all working as sex demons for Hell, and all this close to losing their jobs, because although they are good at meeting women, they suck at the paperwork.
Coed Demon S***s – Ordinary women with ordinary problems seek an extraordinary solution: they sign contracts with Hell to become succubi.
About Makeover Queen
When lovers hide from themselves, how can they find each other?
Debby is a happy-go-lucky slob hiding her inner hottie under a bushel. Bruce is a too-hunted hunk hiding his straight sex drive behind a flamboyant beautician disguise.
She asks him to make her over so she can seduce another guy. He seduces her first to save her from herself.
But coming out beautiful—or just coming out—may be riskier than they thought.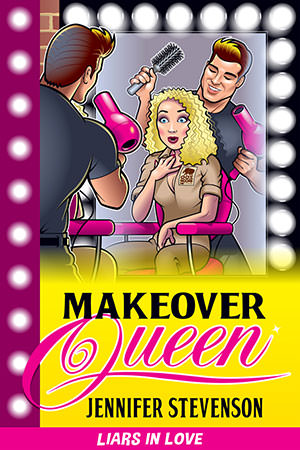 If there was a film or TV adaptation of your book, who would you like to see play your characters?
I'd want Zac Efron for Bruce, because he's got that smug, glossy, never-been-flustered surface, and it would be so much fun to watch him come apart as Debby blooms. Debby should be played by Taylor Swift, so tall and pale, with those smart little eyes! Justin Long would be Leo, of course. Hulk should be played by Jason Momoa, although he'd have to dye his hair blond and cut it super short.
Give us an insight into your main character. What makes them unique?
I think Bruce is unusual because he's not doing a Warren-Beatty-Shampoo trick just to get laid. He retreats behind a fake gay façade because he can't bring himself to rebuff his stalker exes, and especially because he fears he'll never date anybody who won't turn out crazy. He didn't get it from strangers—his mom pulls that insane jealousy stuff on his dad, and it has been driving Bruce nuts all his life.
The fact is, although he makes Debby over on the outside, Bruce is the one who gets made over on the inside.
What do you consider to be your best accomplishment?
Married 40 years to a terrific guy!
Have you always liked to write?
I was born with the burden of fulfilling my entire family's ambition to write genre fiction for the pulps, a responsibility I have always been up for. But the pulps went away. Now they're back!—in a different guise, as indie published ebooks.
What writing advice do you have for aspiring authors?
Persistence is more useful than talent. Lots of people have talent. Not everybody has what it takes to write the whole darned book, get to The End, do the rewriting, do the marketing, and treat it like a J.O.B.
If you didn't like writing books, or weren't any good at it, what would you like to do for a living?
I'd probably be a standup comic.
How long does it usually take you to write the first draft of a book?
Totally depends. Can be a couple of months—can take four years!
What are you working on now?
The next book in the Liars in Love series is another romcom called My Superhero, about a job counselor who gets shoved out onto her office window ledge by the cops. They want her to keep the guy sitting out there from jumping while they send for the net. The guy on the ledge is wearing spandex and a cape. Wackiness ensues.
Can you give us a few tasty morsels from your work-in-progress?
"Jump!"
"Don't jump!"
Someone was out here all right. A shock of blond hair and a single blue eye came in view.
"Don't jump!"
"Save him!"
He was six feet away.
"Hello?" I quavered.
The eye vanished.
"Wait! I'm coming over!" What if he jumped because I said that?
"Stay there. Don't risk your life."
I nearly swallowed my tongue.
He sounded calm. "Don't move." He gripped a pillar and swung his whole body around it. I gasped at a whirling blaze of color.
He wore a billowing, flame-yellow cape. Orange tights. A sapphire blue body stocking clung to his muscular, sculpted—I gasped again, my eyes popping. He walked easily along the ledge, sat, and wrapped a spandex-shiny arm around me, pulling me back against the sooty stone wall.
"I'd feel better if you went back inside," he said. He looked twenty-five-ish. His blond hair stuck up wildly like the petals of a chrysanthemum, and his blue eyes were the eyes of a child. He didn't look crazy. He looked sweet.
"Will you come inside?" I breathed.
He looked back the way he had come. "Soon."
Describe what your ideal writing space looks like.
Let's see—clean, uncluttered, freshly painted, cat-hair-free, a quarter mile away from the refrigerator, with two huge new computers and monitors, and a hot cabana boy standing by to serve me frosty beverages or a nice neck rub—wait, that's too distracting—what was your question?
Why should a potential reader buy your book(s)?
You should buy my books for the humor, for the warmly lovable nutbar characters, for the sincerity, for the silly, and because you'll feel good for days afterward. You'll see things differently—a little weirdly, but in a positive way, with an all-new slant on life that makes it look like fun. If you grew up as an outsider—one of those bookwormy kids who gets picked last for softball in gym class—you'll like them even more. I seem to write a lot of outsiders.
What's the strangest thing you have ever had to research for your book?
Tagging freight trains with spray paint. There are whole forums on the internet about this, did you know?
What's something you're really good at that few people know about?
I'm pretty good at rolling around on roller skates and knocking people down with my rear end. I was in roller derby for a little while. My derby name was "Flash Hottie". That's when I learned to love my not-so-secret weapon.
Where did your love of books come from?
I was born into a reading family. I had no choice. We all lived for books, for stories. I learned to read almost at the same time as I was learning to walk.
How long have you been writing?
No idea. Before my memory.
What advice would you give to your younger self?
Don't let your parents shame you out of writing fan fiction. Find some fanfic communities to hang out in. They'll teach you how to write plot, and how to please the reader.
What would the main character in your book have to say about you?
"Girlfriend, you need to learn how to use makeup STAT!"
Who are your favourite authors, and why?
Terry Pratchett, Georgette Heyer, Barry Hughart, Jennifer Crusie, Rex Stout, PG Wodehouse. They all write humor, they're all really smart, and their characters have big hearts.
What's the best thing about being an indie author?
Control. All authors are control freaks. Indie authors get to indulge their OCD to the max. This also explains how little hair we have.
Where can readers go to discover more about you and your books?
Website | Blog | Facebook | Twitter | Amazon Author Page
---
Makeover Queen is out now!
Available formats: ebook