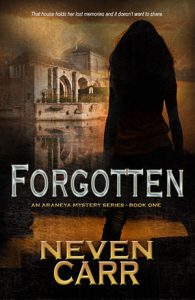 Joining me on the couch today is fellow Aussie, Neven Carr, an author who writes mysteries. Thank you, Neven, for taking the time to chat to me. Please sit down, get comfortable and let's begin.
About Neven Carr
Neven Carr began writing her first book at the age of ten. She never finished it. Short stories, poems and songs she completed with ease, but she never achieved the elusive novel.
Neven had some fantastic English teachers who continually encouraged her to explore the talent they believed she had. Again, she began many novels, again never completing them.
Ten years ago, she picked up her laptop and began writing. Since then she hasn't stopped. She not only completed her first novel 'Forgotten' but also four more in the 'Araneya Series'. Neven believes the timing was right; that perhaps she needed more life experience.
Neven is fortunate to live in what she terms is an author's haven; a quaint fishing village on the east coast of Queensland, Australia. The sounds and smells of the nearby ocean, and of the surrounding natural wildlife, she finds soothing and inspiring.
Read More