Joining on the couch on a hot, yet stormy Melbourne evening, is an author who loves a good horror story or thriller, Stuart Byng. Thank you, Stuart, for taking the time to chat to me. Please sit down, get comfortable and let's begin.
About Stuart Byng
Stuart Byng was born in Stourbridge, in the West Midlands area of the United Kingdom, on 24th February 1976. He has had a very varied career, with jobs including courier, shop assistant, driving instructor, internet researcher and window cleaner.
His primary interest has always been writing, something that he has been doing on and off for most of his life. His first novel, Dark Minds, was self-published a few years ago, followed by Avenues Of Darkness, in August 2017. Both are currently available from Amazon. He is currently working on another novel titled Kito, due to be released in the summer of 2018.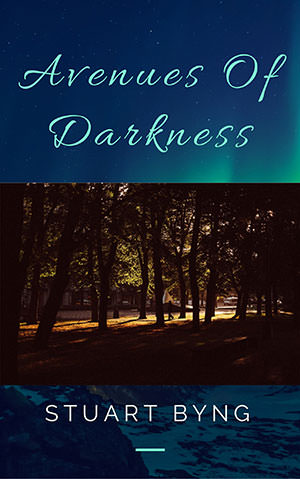 Avenues Of Darkness
Here is a collection of short stories. Each has its own character, but all will leave you wondering a little more about what may be lurking in any Avenues Of Darkness…
Where do your ideas come from?
Ideas surround us all the time. From things we see, or that happen to us. It is taking these ideas and developing them into your story that is the difficult part.
Where do you see yourself in 10 years?
Still writing lots I hope! I would like to have a minimum of 20 titles published by then.
Have you always liked to write?
Yes. I began writing stories from quite a young age, although they were not in the horror genre then! I have always enjoyed writing. I would say that it has taken a bit too much of a back seat at times though.
What writing advice do you have for aspiring authors?
The best advice I could give is to read and write a lot. It really is the only way. There is no shortcut to becoming a writer. The most important thing is to write as much as you can.
Do you read reviews of your book(s)? Do you respond to them, good or bad? How do you deal with the bad?
I do read reviews but I do not reply to them. They are an individual opinion and it is not for me to try and change that. Obviously I do prefer the good reviews!
What is your least favourite part of the writing / publishing process?
Editing the first draft can always be tough. It is a difficult yet necessary process. It can be hard to cut parts of your own writing out, but it is necessary for the good of the story.
Is there one subject you would never write about as an author? What is it?
I would prefer not to limit a story by saying yes to this. However, I hate all kinds of animal cruelty so unless essential, I would prefer not to write about that.
How long does it usually take you to write the first draft of a book?
Generally speaking, the ideal time to complete the first draft is 3-6 months. This doesn't always happen in practice though.
What are you working on now?
I am currently working on my novel Kito. Hopefully it will be released this summer.
How has your environment or upbringing impacted your writing?
It does with every writer I would say. It is from our environment that we learn things that later can come as ideas while we write. It is what makes a person who they are.
Describe what your ideal writing space looks like.
A quiet cosy room, with a comfy chair and a desk. Nice and simple.
Why should a potential reader buy your book(s)?
My aim is always to take the reader away from everyday life for a while. Come with me and enjoy the journey!
Why did you choose to write in your genre? If you write in more than one, how do you balance them?
Horror and Thriller books have always been a favourite of mine, so it was a natural choice.
Where did your love of books come from?
I have always enjoyed reading, from a young age. It is the way you can lose yourself in a story, whatever else is going on just fades away. That is amazing, and I hope my stories allow others to do the same.
How long have you been writing?
I have been writing on and off for over 20 years. Too much off time has meant not as many books released as I would have liked. I aim to change that from now on.
What advice would you give to your younger self?
Write more!
Of all the characters you have created, which is your favourite and why?
I would have to say Kaleb from Dark Minds. Very interesting to write about due to the freedom you can have with a supernatural type of character.
Are your characters based on real people, are they imaginary or a combination of both?
My characters are imaginary. However, as we all draw on our own experiences for writing, I believe that they are made up of a variety of people I have known, read about, or been told about at some time in my life.
When you're writing, do you listen to music or do you need silence?
I find silence is often best. Although some music (my particular favourite is UB40) can be good, as long as it is only in the background.
Who are your favourite authors, and why?
Stephen King is definitely my favourite author. His character development and detailed plots are top class. He has a great ability to draw a reader into the story.
Where can readers go to discover more about you and your books?
Website | Facebook | Amazon Author Page
---
Avenues Of Darkness is out now!
Available formats: ebook, paperback