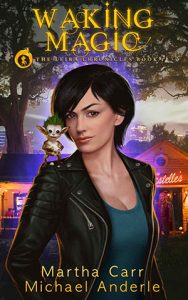 Martha Carr, the author I'm interviewing today, didn't want to reveal much about herself, and that's okay… she has enough books published for us to talk about for hours! Thank you, Martha, for taking the time to chat to me. Please sit down, get comfortable and let's begin.
About Martha Carr
Martha Carr is the author of 13 books, including the The Leira Chronicles, an urban fantasy series part of the Oriceran Universe and the Wallis Jones series, a six part thriller series that starts with The List Conspiracy.
Martha has written a weekly, nationally-syndicated column on world affairs and life that has run on such political hotspots as The Moderate Voice.com and Politicus.com. Her work has run regularly in such venerable publications as The Washington Post, The New York Times, USA Today, The Wall Street Journal, The Chicago Tribune and Newsweek.
Read More