Martha Carr, the author I'm interviewing today, didn't want to reveal much about herself, and that's okay… she has enough books published for us to talk about for hours! Thank you, Martha, for taking the time to chat to me. Please sit down, get comfortable and let's begin.
About Martha Carr
Martha Carr is the author of 13 books, including the The Leira Chronicles, an urban fantasy series, which is part of the Oriceran Universe, and the Wallis Jones series, a six part thriller series that starts with The List Conspiracy.
Martha has written a weekly, nationally-syndicated column on world affairs and life that has run on such political hotspots as The Moderate Voice.com and Politicus.com. Her work has run regularly in such venerable publications as The Washington Post, The New York Times, USA Today, The Wall Street Journal, The Chicago Tribune and Newsweek.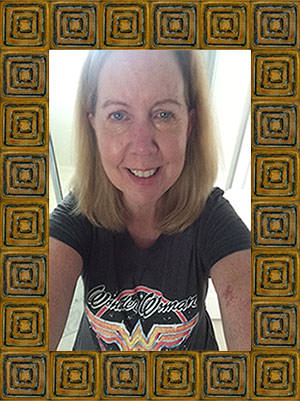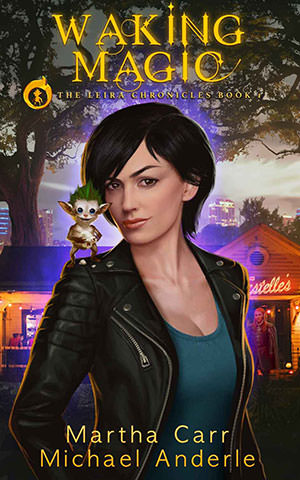 What's the name of your new book?
The Leira Chronicles: Waking Magic, Book One
Tell us a bit about your book
The Truth is Revealed When Magic Returns.
Austin Detective Leira Berens has lost her mother to a psych ward, her grandmother has disappeared and that's the most normal part of her day. A portal opens up out of nowhere that takes her to another world filled with magic. The Light Elves need someone just like Leira to solve a crime and keep magic hidden from human beings on Earth. But the gates between the two worlds are beginning to open and everything's about to change. Is Leira the answer to it all? What are the magical beings not telling her?
How important are character names to you in your books? Is there a special meaning to any of the names?
When creating a magical universe names can become very important. I want a certain consistency and an element of magic but without confusing the reader or slowing down the story. These books are a collaboration with author Michael Anderle and I came down on the side of using old Gaelic and Hawaiian names and he wanted more every day names and the compromise really works. Then we had to build a story bible so that we can keep all of our new friends straight!
Give us an insight into your main character. What makes them unique?
Detective Leira Berens is only 25 years old and has already lost the most important people in her life. Her mother is in a psych ward and her grandmother disappeared four years ago. Trust has become a tough commodity for her. But she has her group of friends at the bar that's right in front of her small cottage and she has her partner on the job, Det. Hagan and she'd do anything for them. She's loyal, fierce and she's about to find out – a whole lot more.
If you could choose ten words to describe your book, what would they be?
Fast-paced, Funny, Magical, Character-driven, Fun, thrilling, full of wonder.
What do you consider to be your best accomplishment?
Living in different US orphanages for two years to research a book that ended up encouraging others to do more for kids with no families in this country.
Where do you see yourself in 10 years?
On a ranch in Austin big enough to have writers come and stay and write and play. And dogs will be there of course.
Have you always liked to write?
From the moment I walked into the Philadelphia library and was told if I could carry it, I could borrow it. Writing opened up an entirely new world for me and gave me a voice. It probably saved my life.
What writing advice do you have for aspiring authors?
Always remain open to new ideas of how to write, how to publish, how to market and create a friendly group of writers for yourself that lift you up and encourage you. Run from the trolls as fast as you can.
If you didn't like writing books, or weren't any good at it, what would you like to do for a living?
Play in a rock band or draw a cartoon.
Do you read reviews of your book(s)? Do you respond to them, good or bad? How do you deal with the bad?
I go through different phases but it's true that if you're going to be lifted up by the good, then you have to take the bad seriously too. Instead, I let them all go and get out there and connect more one-to-one with the fans.
Can you give us a few tasty morsels from your work-in-progress?
Going to Lavender Rock turned up nothing except a lot of suspicious stares and gave her a mild headache and a humming in her ears that lasted the rest of the day.
"Something weird there. Too many people just hanging out near a giant rock. Will have to save that for a return trip later. Fuck Monday mornings," grumbled Leira. She sat up on her old couch and stretched her back.
Suddenly, a small green streak of motion zipped past her.
"No, no, no! I've got to get to work!" Leira lunged for the small troll, chasing it around the room. Small, like five-inches small and almost nothing to grab onto, especially when it was moving in a hurry.
The small creature was always in a hurry. One long weekend of trying to keep that fidgety pain in the ass in a cardboard shoe box. It only took a day before the box was in shreds along with the washcloth.
Leira reached out as she lunged but came up empty, her hand grazing across the wild tuft of green hair.
The troll did a neat bounce, tuck and roll off her old couch landing on the floor.
How has your environment or upbringing impacted your writing?
I grew up outside of DC, always aware of politics and I'm the great-great-great-great niece of Thomas Jefferson – I tend to see a thriller or a good story in everything and I want to believe there's magic in the world
What's something you're really good at that few people know about?
Tap dancing – I used to teach it and danced solo in the City of Alexandria's Bicentennial Show. Shhh, don't tell anyone (That and somewhere out there is a Glamour Shot from the 1980s.)
Where can readers go to discover more about you and your books?
Website | Blog | Facebook | Twitter | Pinterest | Amazon Author Page
---
The Leira Chronicles: Waking Magic, Book One is out now!
Available formats: ebook, paperback, audiobook