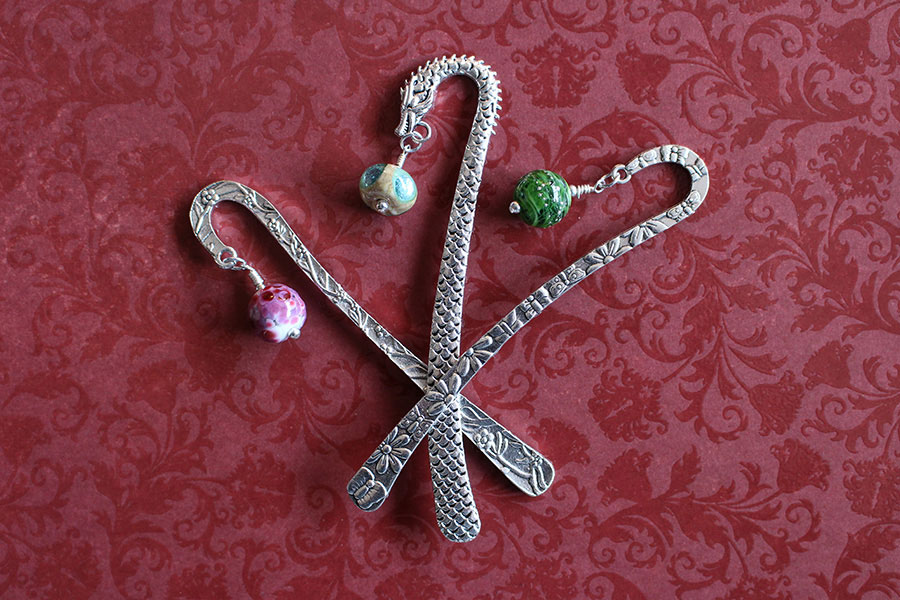 I fell in love with the lampwork bead bookmarks that I'm giving away as part of the Win with Angel's Messiah competition. I happen to know the glass artist — Marianne Bradman — quite well, as she's my sister. As far as this uneducated individual is concerned, a bead is a bead, no matter its size or intricate detail. Yet I knew that was most likely not the case, so I asked Marianne to tell me about lampworking. Here's what she sent me …
What is lampworking?
    by Marianne Bradman
Lampworking (or flameworking) is a type of glasswork where the artist uses an extremely hot flame to melt glass and create lampwork beads. Lampworking derived its name from the oil filled lamps used to melt the glass. These days, lampworkers use a gas torch or a dual fuel torch using a combination of gas and oxygen.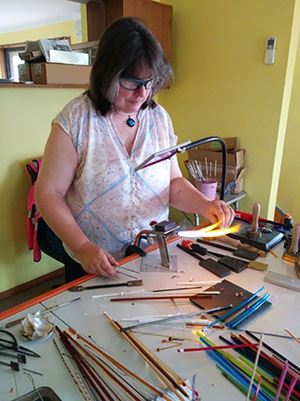 Marianne Bradman, at work.
Beads are created on a specially coated steel mandrel. A glass rod is heated over a flame. Once molten, the glass is wound onto the heated mandrel and shaped using gravity and tools. The bead is decorated with other colours of glass or metal inclusions such as silver leaf. When the bead is finished, it's annealed in the kiln to prevent cracking. The mandrel is then removed and the bead cleaned.
I either sell my beads individually or make them up into jewellery or bookmarks.
In addition to lampwork beads, I also make glass plates and bowls, and dichroic jewellery. As they are handmade, each piece is unique.
You can find out more about Marianne Bradman on facebook or via her website.
If you're interested in purchasing an item or two, here are some places — online and physical — that you can visit: