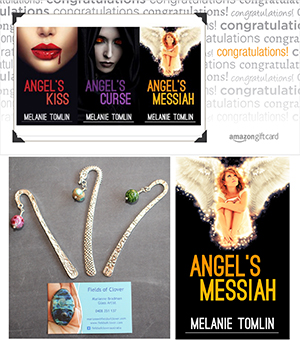 To celebrate the upcoming release of the third book in the 'Angel Series' — Angel's Messiah — I'm having a little giveaway!
Subscribe to my newsletter for a chance to win one of ten prizes.
1 x $30 (USD) Amazon Gift Card
3 x Lampwork Bead Bookmarks
6 x Angel's Messiah eBooks
Existing subscribers please note that you will be automatically entered into the draw.
Entries close on 01 June 2016 11:59pm AEST. A random-picker website will be used to select the winners, and the winners will be announced on, or before, Friday 10 June 2016 — provided the winners' eligibility to enter has been verified.
The Terms and Conditions can be found here. Please do take the time to have a read, as some of you may be ineligible to enter. (You are still most welcome to subscribe for news, freebies and updates though.)
You can subscribe to my newsletter via my website. There's a 'Free ebook' link near the bottom of every page, but if you're having trouble finding it, you can simply click here, or go to the 'Have a FREE ebook on me!' form on my Facebook page. Any one of these will get you subscribed and entered, but don't forget to check your email and confirm your subscription, otherwise you won't be properly subscribed. As a bonus, once you've subscribed you'll be able to download the ebook version of Angel's Kiss for free!
Good luck!