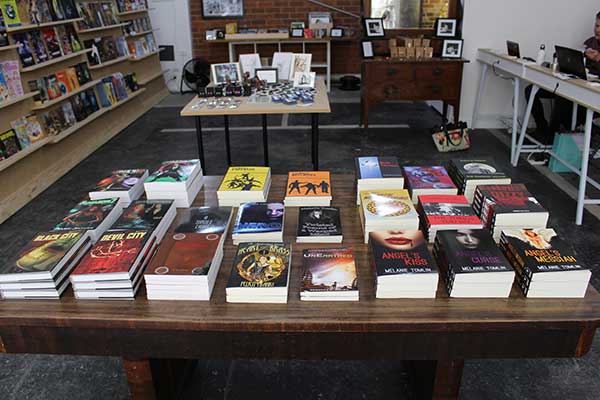 If you're an independent artist, getting your wares into physical stores can be a challenge. Now, before I go any further, let me clarify that by 'artist', I'm referring to any person skilled in a creative activity to produce an end product. For example, my sister is a glass artist and I am an artist of the written word.
There are some bookstores that solely support independent authors, and these are starting to grow in number as people realise that the quality of books published independently has greatly improved over the last five years. In fact, in many cases the quality of the books (I'm thinking more along the lines of grammar and punctuation here) is on par with, or better than, those that are traditionally published. Why? Because independent authors tend to have greater control over their work. If you find a typo and contact the author, apart from being grateful, they can usually correct the error (if it is indeed an error) within 48 hours. Traditional publishers aren't so keen to fix those four typos unless a new edition is going to be released. They seem to be more concerned with bottom lines rather than the quality of the products they are making available to consumers.
Of course, there are bookstores that stock both traditionally published and independently published books, and these are in the increase a well, but it's stores that only stock independent works which this article relates to.
I know of at least two bookstores in the US that are following the 'independent only' model. There may be more, but I haven't some across them yet. If you happen to know one, add a comment. It would be great to grow the list! The stores I know of are P.J. Boox and Gulf Coast Bookstore. Both are located in Florida and were founded by, or co-founded by, Patti Brassard Jefferson. P.J. Boox also supports a variety of independent artists, and it is this type of support that is the most exciting!
Locally I was very lucky to be introduced to Santa Carla, a new bricks and mortar store that has taken that wild leap to support independent artists in Australia.
Stop by at Santa Carla and buy something awesome for yourself or someone you care about. We are talking quality handcrafted, inspired pieces of art in all the many forms art can take, from print to plushie, book to vinyl. These are all by indie artists, people who have amazing special gifts that the world needs.www.santacarla.com.au
They are leading the way, in a country that sometimes falls behind what the northern hemisphere is doing, and I hope that others will follow their example.
Recently I visited Santa Carla, to find out exactly what they have on offer, and I was astounded by the wide variety, and quality, of the goods. Here you will find books, comics, CDs, vinyls, gorgeous drawings of dragons, jewellery, zombie ponies, cards and prints, and a heap of other stuff.
I took some photos of what they had on offer on the day I visited, so you can get some idea of what it's all about.
Jode, the founder of Santa Carla, hopes to open an online store in the near future. To keep informed about what's going on, or to see more photos of the goods on offer, head over to Facebook.
And if you happen to be a local, stop by the store, which is located at 3 Sparta Pl, Brunswick 3056 and say hello to Jode and Alix!