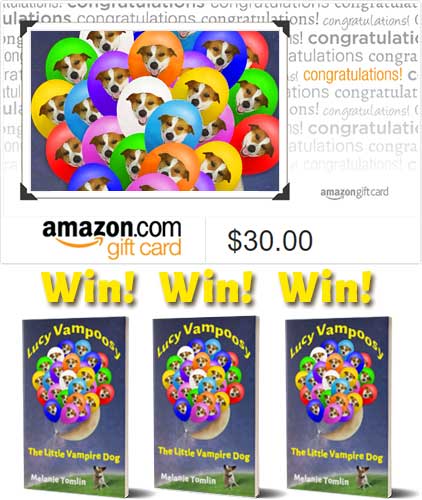 Last competition for the year!
My goodness, it's a good thing Lucy reminded me about this. I've had so much on my plate this past month (and none of it food) that I'd completely forgotten.
You might be wondering who Lucy is, and why I'd be holding a competition in her name. Firstly, Lucy is one of my dogs, and secondly, she's the star of my upcoming children's picture book, Lucy Vampoosy: The Little Vampire Dog. Yes, I've ventured into new territory yet again!
It didn't take long to write Lucy's story. After all, picture books aren't overly wordy. On the other hand, the images used throughout the book took longer to get right, to a degree that Lucy was happy with. I spent more time on those images than I do writing my novels!
Some of the images that appear in Lucy Vampoosy: The Little Vampire Dog
Anyway, back to the competition. Once again this is a competition for angel followers (subscribers of my newsletter(s)). If you're not an angel follower, but would like to be, click here.
What's that, Lucy? Now you think you're an angel dog and not a vampire dog? Lucy is one confused puppy if she thinks she's the angel and you're her followers! She can be quite angelic at times, but I don't think that counts.
The prizes
You could win one of:
1 x $30 (USD) Amazon Gift Card
3 x signed copies of Lucy Vampoosy: The Little Vampire Dog
6 x Lucy Vampoosy: The Little Vampire Dog eBooks
Entries close on 20 November 2016 11:59pm AEST. A random-picker website will be used to conduct the draw, and the winners will be announced on, or before, 04 December 2016 — provided the winners' eligibility to enter has been verified.
The Terms and Conditions can be found here. Please do take the time to have a read, as some of you may be ineligible to enter. (You are still most welcome to become an angel follower and receive news, freebies and updates though.)
Good luck!
---
PS
If you don't happen to win a copy of the book, the ebook will be on sale until the end of the year. At 99c/p/€ for a children's book, it's a bargain!