Joining me on the couch today is the author of the Men of Gold Mountain series, Rebecca Brooks. Thank you, Rebecca, for taking the time to chat to me. Please sit down, get comfortable and let's begin.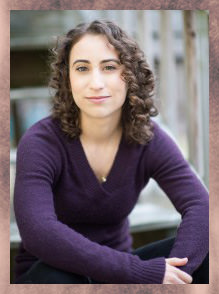 About Rebecca Brooks
Rebecca Brooks lives in New York City in an apartment filled with books. She received a PhD in English but decided it was more fun to write books than write about them. She has backpacked alone through India and Brazil, traveled by cargo boat down the Amazon River, climbed Mt. Kilimanjaro, explored ice caves in Peru, trekked to the source of the Ganges, and sunbathed in Burma, but she always likes coming home to a cold beer and her hot husband in the Bronx. Find out more at http://rebeccabrooksromance.com
What's the name of your new book?
Make Me Yours
Tell us a bit about your book
Her bad boy is back.
Claire Collins has always been good—except when it comes to bad boys. Or one bad boy in particular: a tattooed musician as skilled with her body as he is with his guitar. But he wasn't ready to be a father, so she left him to raise their daughter on her own. Only fate had other plans, and suddenly, Ryan is back in her life, disrupting everything. This time, though, she's determined not to lose her heart…even if she still craves his touch.
Ryan Thomas never expects to see Claire again—especially not in a small mountain town in Washington on the last show of his comeback tour. But when the lights come on, there she is, more beautiful than ever. One incredible night with her won't be enough… But he'll have to prove he's not the man he used to be, if he wants to keep her—and his family—for good.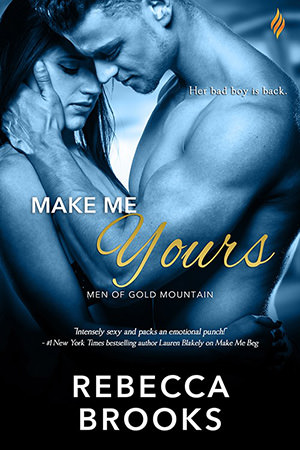 Give us an insight into your main characters. What makes them unique?
Claire is a massage therapist and a single mom, and she's such a giver. She's kind to her friends, devoted to her daughter, and takes care of everyone she works with. But that doesn't leave a lot of gas left in the tank for herself! I really love how throughout the book, Claire learns to prioritize her own happiness and think more about what SHE needs.
Ryan is the scruffy, tattooed, bad boy rock star with a heart of gold. He's had some major ups and downs in life and made a really big mistake when he was first dating Claire years ago. But he's committed to winning her back, and I love watching him open up and let love into his life. There are a lot of dirty-talking, alpha guys in romance, and don't get me wrong, I love 'em. But what makes Ryan special is that he's got depth and vulnerability, and he's not afraid to show who he really is inside.
If you could choose ten words to describe your book, what would they be?
Heartfelt, emotional, sweet, dirty, fun, funny, inspiring, sexy, sexy, and sexy!
What do you consider to be your best accomplishment?
I'm really freaking proud of myself for writing, finishing, and getting published a novel—let alone six of them! (And counting!) Sometimes I feel like writers forget what a big accomplishment that is, so I try to remind myself that hey, it's pretty amazing to dream up a whole world, and get all those words on the page.
What writing advice do you have for aspiring authors?
Write a lot, even (especially) when it's bad. Read a TON and try to figure out how the authors you love do what they do—and also what the authors you don't love are doing, because sometimes that's even more instructive. And finish the damn project, whatever it is!
If you didn't like writing books, or weren't any good at it, what would you like to do for a living?
I've always wanted to be a writer, but the only thing I've ever (briefly) considered was being an artist. So, obviously there's never going to be any financial security in my future no matter what! I definitely think art has influenced my writing. I love writing about artists, for one thing. It's also given me new tools for how to see and describe the world. And the process of tackling a drawing or painting is really similar to writing a book. It takes a lot of persistence—and a lot of mistakes—but the process is always worth it.
Do you have a favourite conference / convention that you like to attend? What is it?
I love RT because I always meet so many amazing readers and writers at the convention. I'll be in Reno 2018, so if anyone is going to be there, let's meet! Note: RT stands for Romantic Times.
Is there a certain type of scene that's harder for you to write than others?
Fighting is hard, because I love my characters so much and I just want them to be happy together! But I also have a hard time with the big make-up scene afterwards. I'm so happy that it's finally going to work out, I have to remember not to skip over the whole process of forgiveness where they earn back each other's trust and commit to a future together. I just want them to jump back in bed and profess their love for each other!
Now sex scenes on the other hand… Those are always easy! I love making up the meet-cute and writing all the sexy banter in the beginning. It's so fun getting to know the characters and watching them fall for each other—especially when they're trying hard not to!
How long does it usually take you to write the first draft of a book?
I write the first draft usually in about 3 weeks. I actually don't even call it a first draft anymore—I consider it "Draft 0." I start with an outline, and then I just try to get everything down as quickly as possible, so there's something on the page. After that, I go through more carefully and revise. It takes me about 3 months to write a book, if everything goes smoothly. Which really means it takes me about 4 months, because something ALWAYS comes up!
What are you working on now?
Make Me Yours is the last book in the Men of Gold Mountain series. The series is four books, each set in a different season, and they're all standalones that you can read in any order. They follow the same group of friends in a small town in the Cascade Mountains in Washington State. I've worked so hard on the series, I can't believe I don't have another one coming out just around the corner! So right now I'm brainstorming new ideas with my awesome editor and figuring out what kind of rugged, dirty-talking heroes to write about next. Yum!
Do you have any unique or quirky writing habits?
I can write anywhere. Literally. Anywhere. I don't know if that's unique or quirky, but rather than having some specific set-up or anything special, I just need something to write with and something to write on, or whatever technological device has a typing option. I used to need everything to be quiet and to feel like I had my own space and a sense that all the other crap I had to do was taken care of, so that I could just focus on writing. Then I went to graduate school for a PhD in English and had to take classes and write articles for publication and present at conferences and teach two classes a semester all while commuting on the subway for over an hour, and I realized I could either sink or start getting my work done in every stolen moment I had. As a result, I became a lot more focused—and flexible—when it came to getting things done!
Where can readers go to discover more about you and your books?
Website | Blog | Facebook | Twitter | Amazon Author Page | Instagram | Goodreads
---
Make Me Yours is out on October 9, 2017!
Available formats: ebook, paperback