Author K. de Long, also known as Katie de Long, joins me today to talk about dream of becoming a crazy cat-lady and, of course, one of her many books. Thank you, Katie, for taking the time to chat to me. Please sit down, get comfortable and let's begin.
About K. de Long
USA Today Bestseller K. de Long lives in the Pacific northwest, realizing her dream of being a crazy cat-lady. As a kid, she flagged the fade-to-blacks in every adult book she encountered, and when she began writing, she vowed to use cutaways sparingly. After all, that's when the good stuff happens. And on a kindle, no one asks why there's so many bookmarks in her library.
K. de Long writes contemporary romance, romantic suspense, and dark romance under Katie de Long.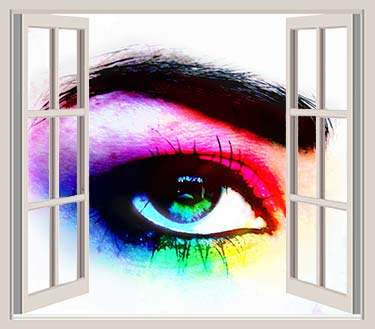 What's the name of the book you're here to talk about?
Alliance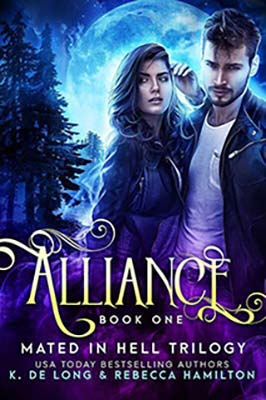 Tell us a bit about your book
USA Today bestselling authors K. de Long and Rebecca Hamilton come together to bring you book one in the Mated in Hell Trilogy, an Alpha vs. Alpha M/F romance for readers who enjoy the man coming out on top.
With the prospect of war on the horizon, two rival packs must come together to solidify an uneasy truce.
Tessa LaCroix, alpha mistress of the Kumori pack, is too fiery and competent to be passed around like some decoration. So when her father sends her to the Nefari pack to become their alpha leader's mate, she's furious. More aggravating, Marrock is the worst kind of alpha: proud and unmoving, more animal than man. But her own feelings betray her as she comes to know the man beneath the beast and realizes the animal in her wants the animal in him.
Liam Marrock was perfectly happy running his pack without a strong huntress defying him at every turn. However, the prospect of a ceasefire with the Kumori is too alluring to pass up. Unfortunately, it's not half as alluring as the headstrong spitfire now sharing his home, all the while cursing his name. But Tessa soon proves she's more trouble than she's worth, when her strong-willed attitude causes his packmates to test his authority.
As tensions escalate and the truce is tested, Tessa's quest for independence may cost him his life.
Fans of Jamie McGuire, Laurell K. Hamilton, and Sherrilyn Kenyon will love this paranormal shifter romance with BDSM influences.
Where do your ideas come from?
I'm a visual person. I often write the blurb and design a cover before I write the book. It was a little different working on Alliance, because my cowriter and I decided to hire a cover artist, rather than either of us making the cover ourselves. So at first, I had no clue what my characters would need to look like, or how the book would "feel" with the cover. But my process usually has me coming up with a title, tagline, cover, and blurb before I ever test a sample scene or outline. I know that sounds really backwards.
Have you always liked to write?
Oddly enough, no. My sister and I played pretend a lot, and even wrote stories together, but I never cared for the process of writing the way that she did. She was the writer in the home.
So… how'd I end up here? I ended up falling for a writer, and polishing my editing/plotting skills helping him. He eventually dared me to do a national novel writing month (nano) with him, and to start writing to keep him company during his own stuff. And somewhere along the way, we realized that I had an aptitude for it. So I kept at it.
What writing advice do you have for aspiring authors?
Write write write write write. Get it on the page before you start questioning whether it's any good. Oh, and at least attempt to outline. Outlining doesn't work for everyone, but having even a GENERAL direction can be hugely invaluable. It saves you effort later when you don't have to cut 10-20k off a manuscript in free-flow stuff that never ended up connecting to a larger story.
Is there one subject you would never write about as an author? What is it?
Not never write… but there's many tough topics that I am very picky in how I address. I've had a really strange life that has exposed me to a lot of ideas that people normally only see in fiction. And unfortunately, there's real-life harms to telling those stories badly, or in ways that mislead people as to what those experiences are LIKE. Most people don't realize how much of our perception of the world is rooted in bad statistics or biased information, and how easily writing a story that "feels" right can in fact perpetuate harms against people who are actually living your story.
How long does it usually take you to write the first draft of a book?
It varies. I usually keep several projects in rotation, so I can happily switch back and forth. I've written a novel as fast as a week, or as long as six months. It just varies on the strength of my outline, and how I'm feeling.
How has your environment or upbringing impacted your writing?
Greatly. I live in a very precarious position, as a mentally and physically disabled bisexual survivor of domestic abuse and sexual assault, and a former sex worker. Blah blah blah, it gets deeper than that. A lot of times, you don't see characters with these kind of limitations or experiences, especially in romance, since there's a tendency to treat only particular kinds of people as "likeable" leads–which in practice labels them "unlovable", since they don't get to be treated with depth, nuance, and affirmation. So some of my work is dark, or draws from really unorthodox experiences and themes that most people don't grow up having direct experience with. The first novel in my Inkubus series stars a schizophrenic woman, and the second stars a PTSD-struggling survivor of domestic violence. Difficult people to empathize with, "unlikeable" in places…. but in my opinion, thoroughly lovable despite that.
As one of my editors jokes, you don't read my work if you want to be in the shoes of the girl next door. There's plenty of authors who can write the "everyman/everywoman" character well… but I'm not one of them
What's something you're really good at that few people know about?
Hah! I've got a lot of secret talents. I'm a graphic designer, jewellery designer, and artist. Lately I've been designing swag for other authors. It's a great change of pace, and gets a lot of weird looks. You can see that work here: https://papertigerswag.wordpress.com/
When you're writing, do you listen to music or do you need silence?
Music. Hands down. I'm a very audio/visual person, so I keep LOUD music going in the background while I work, and I frequently design alternate covers and illustrations with a similar "feel" to what I want to get across. It means that when describing my style, people frequently pick non-book descriptors: "a Lana del Rey feel", or "A novel with a Tarantino soundtrack."
Where can readers go to discover more about you and your books?
Website | Facebook | Twitter | Amazon Author Page
---
Alliance is out now!
Available formats: ebook and paperback