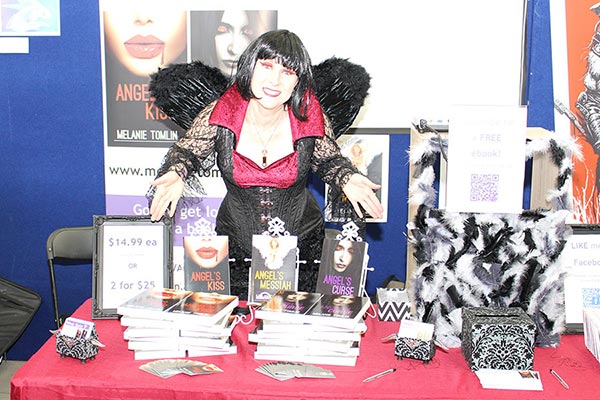 Jump to Supanova Melbourne 2016 Photos
Supanova Melbourne 2016 — Day One
What a bundle of nerves I was on day one of Supanova!
Firstly there were wardrobe malfunctions. My wig kept wanting to run away and the collar I was wearing, which Hamley Bear kindly lent me, tried to do endless 360s around my neck. When I ventured out among the public my black wings got knocked a fair bit, as they extend beyond the usual width of a mortal being. In the end I simply turned sideways when the traffic was bad in order to protect my wings. No big deal at all. I did knock down a few dragons with my wings at one point though. At least now I know dragons are no match for me and my wings!
Next was the weather. My stand was quite close to one of the large entries and exits. It was a cold day, with a cold breeze and the occasional shower. I was feeling the cold, but I really felt sorry for all those cosplayers who were wearing just enough to cover their modesty. Some of them were turning blue … or was that simply their body paint?
Lastly there was the can of lemonade that was knocked over and just about fried my electrical equipment. My helper Mei was quick off the mark though, and moved the power cords out of the path of the sugary river. Many serviettes sacrificed themselves to stem the flow of the soft drink flood.
Day one was a lot of fun though. There were so many fantastic costumes, lots of friendly people and of course book sales and subscriptions to my website.
Supanova Melbourne 2016 — Day Two
I made a few wardrobe changes for day two. I wore a gorgeous corset I purchased the day before at the Corset Wonderland stand, ditched Hamley Bear's collar in favour of a silver chain, and virtually nailed the wig to my head. Everything except my lipstick stayed in place. Said lipstick wanted to travel southward of my lower lip!
The large entry / exit that allowed so much of the breeze to assail us on day one was closed for day two, so there was a lot less shivering. I am eternally grateful to the person who made the decision to keep it closed.
I was a little overwhelmed by the whole experience on day one, so didn't stop any of the cosplayers to ask for a photo. Day two saw me gather the courage to ask if a photo was okay, and of course I used my manners — a please and thank you go a long way!
People also asked to take my photo, which I was quite surprised about, yet happily agreed to. A lovely little girl in a pink princess costume wanted a photo of the lady with the wings, so I crouched down to her level and had a little chat with her before her dad took our photo.
It was great to talk to people who stopped by my stand, even if they weren't actually interested in my books. As an introvert, I often struggle with socialising, so talking to strangers about their costume, or who they were at Supanova to see, was a good experience for me.
There were more book sales and subscriptions to my website as well, but somehow Team Mel managed to go home with more stuff than we brought! We did our bit to help other exhibitors by parting with our hard earned cash.
———
On both days I wore a pair of Diana Ferrari kitten heels. It's not often I wear heels of any kind, but these shoes are comfortable enough for all-day wear.
By the way, the small vial around my neck contains angel blood. Those of you who have read the first book — Angel's Kiss — will know all about angel blood. If you haven't got a clue what I'm talking about, maybe you could buy the book to find out.
Also, I can't end this article without a special thank you to the other members of Team Mel — Kyle Tomlin and Mei Teo. Kyle is my son, and Mei is a friend of ours, who also happened to design the covers of the first two books in the Angel Series.