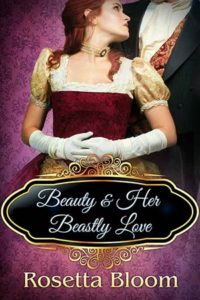 Today I'm interviewing author Rosetta Bloom, who loves a good fairy tale, some heart-warming and sometimes steamy romance, and combines these elements into stories that grown-ups can devour. Thank you, Rosetta, for taking the time to chat to me. Please sit down, get comfortable and let's begin.
About Rosetta Bloom
Rosetta Bloom loves a good love story. She also likes a steamy tale with two characters who find solace in each other's arms. So, she writes romance and erotic romances, and all of them end happily, because Rosetta hates sad endings. If you want a story that has a few surprises, and lots of heart, then she's writing the story for you.
Rosetta Bloom's primary novels and novellas are sexy retellings of classic fairy tales. They include The Princess, the Pea and the Night of Passion; Beauty and Her Beastly Love; Cinders and Ash: A Cinderella Story; Dream Trysts: A Sleeping Beauty Story; Finding Bliss: A Dream Trysts Story and Ravishing Rapunzel. Rosetta loves adding new life to these classic tales and hopes you enjoy the tweaked versions, too. Rosetta also has a series of really short erotic love stories called the Romance: Trysts series. You can read the first one, Dr. Carter & Mrs. Sinn, FREE. There are four in the series, and if you like the first, you can grab the rest individually or pick up the boxed set, Romance: Trysts Volumes 1-4.
Read More